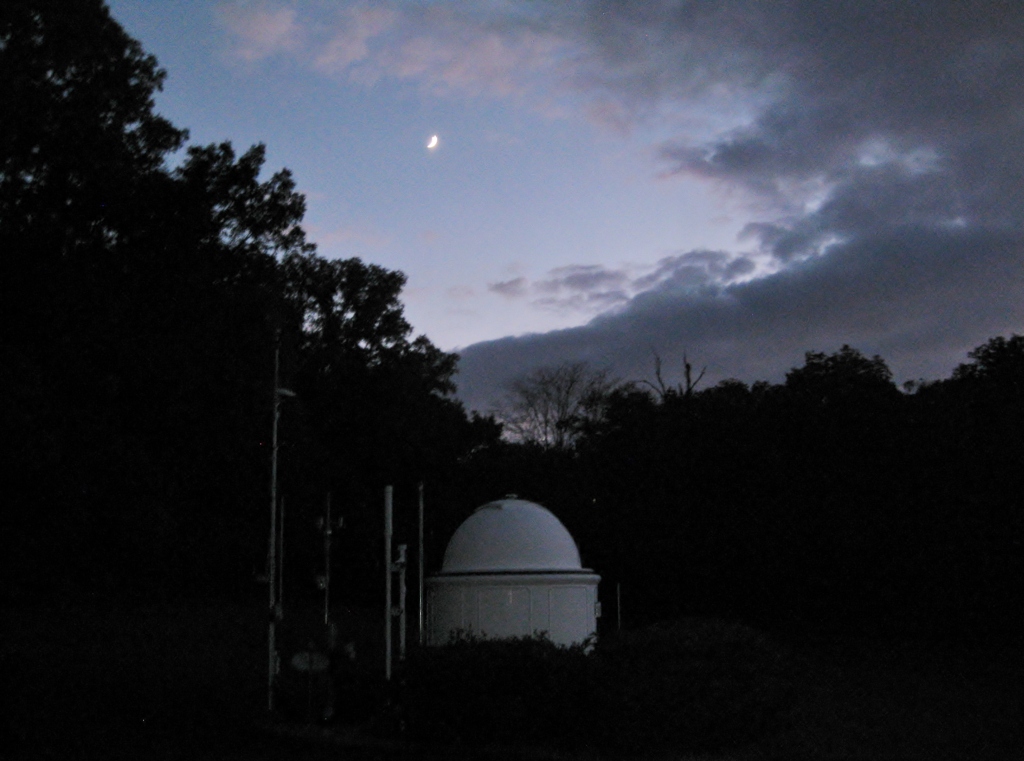 The Sola Virtus Observatory is a privately owned and operated Astronomical and Meteorological Observatory located on several acres of land in northwestern Harford County, Maryland. The rural area provides a peaceful setting away from more lightt polluted skies to record weather events and data and to view and image the heavens.
The Fiberglass Observatory is mounted to a deck platform which raises the elevation of the observatory 3 feet. Observatory features include a 16 inch 5000 psi high strength concrete pier. A custom made 1 1/4 inch aluminum pier plate mounts to 4 bolts on top of the pier with vibration dampening isolators underneath.
Power is supplied to the observatory by 120 volt 20 amp GFI service and 12 volt DC service. Electric is available right on the pier by way of 2 duplex boxes supplied by wiring chased inside the pier. A Furman PL- Pro DMC and Furman Plus II equipped with 2 intensity adjustable lamps working in tandem with 2 CyberPower UPS units, monitor and condition all power sources as well as providing a back up power supply until all systems are shutdown.
Lighting is provided by 2 marine grade ships's bulkhead lamps, one red, one white, adjusted by 2 Lutron dimmer switches controlled at the pier. Four 12v pod lights provide perimeter lighting, one mounted to the underside of each wall deck.
Data and communications is supplied by way of a 2 inch pvc conduit. Phone and DSL are in a separate 1 inch pvc conduit.
Atmospheric conditions inside and outside the observatory are monitored by a Davis Vantage Pro2 with Solar & UV sensor pack and a Wireless Envoy. Weather conditions such as precipitation, dewpoint, barometric pressure ,wind speed and direction as well as temperature and humidity inside and outside the observatory are logged and uploaded to a computer inside the observatory. © SVO Weather software along with Storm Predator and StormLab Weather Radar software, monitor approaching severe weather and issue alerts allowing ample time to shutdown the Observatory. A Mitsubishi AC/Dehumidifier controls interior humidity and temperature levels automatically. A Honeywell air filtration unit controls interior contaminates. A Nicro solar vent fan mounted in the top shutter position exhausts excess heat build up.
The main duties of the observatory will be locating DSO's and NEO's as well as general observing, astrophotography and meteorite data collection.
I'm often asked as to the origins of the Observatory name. Well, it is actually part of the motto from the Coat of Arms of my Scottish Clan.
Sola Virtus Technical Data
Location Coordinates
Lat 3942.15N Long 07632.68W
Elevation
784 ft / 239 meters
Observatory
Overall Height: 10 ft. Overall Diameter: 10 ft.
Dome Height: 5 ft. Dome Diameter: 9 ft.
Mount
1 1/4" Adapter Plate w/ Vibration Dampeners, Dan's Pier Plate,
Supercharged CGE EQ Mount, Mitty Wedge for Fork Mount Scopes
Pier
16 inch 5000psi High Strength Concrete
Power
20 amp w/GFI Mains Breaker,
12v DC Power Supply, UPS, Power
Conditioner w/ 6500 amp Surge Suppression
Weather Monitoring
Davis Vantage Pro 2 Plus with Solar/UV Sensor Pack & Wireless Envoy
Internal Security
Classified
External Security
Doberman Protection Systems
Don't Even Think About It !
Communications
Telephone, DSL, Data Lines, Cat6
Software
WeatherLink 6.03, Storm Predator, VWS v15.00, The Sky 6,
Cartes du Ciel, Stellarium, Registax, MaximDL, Photoshop, IRIS
Observatory Systems Status Report
Observatory Status: Damaged / Awaiting Repair or Replace
Telescope Status: IDLE
Orion 127mm Mak: (Fully Operational)
Astro-Tech AT65EDQ 65mm Astrograph: (Fully Operational)
Lunt LS60, LS80 Coronado PST Solar: (Fully Operational)
Williams Optics 80 & 90mm APO: (Fully Operational)
Meade LX200 SCT (Damaged / Awaiting Replacement)
Mount Status: IDLE
Mitty Wedge:
(Fully Operational)
LX 80 Mount: (Fully Operational)
Camera Status: GREEN
MoonGlow All Sky Cam

:
(On)
Climate Control: GREEN
Mitsubishi Climate Control
(System On Auto)
Honeywell Air Filtration: (System On)
SVO Live Telescope Cam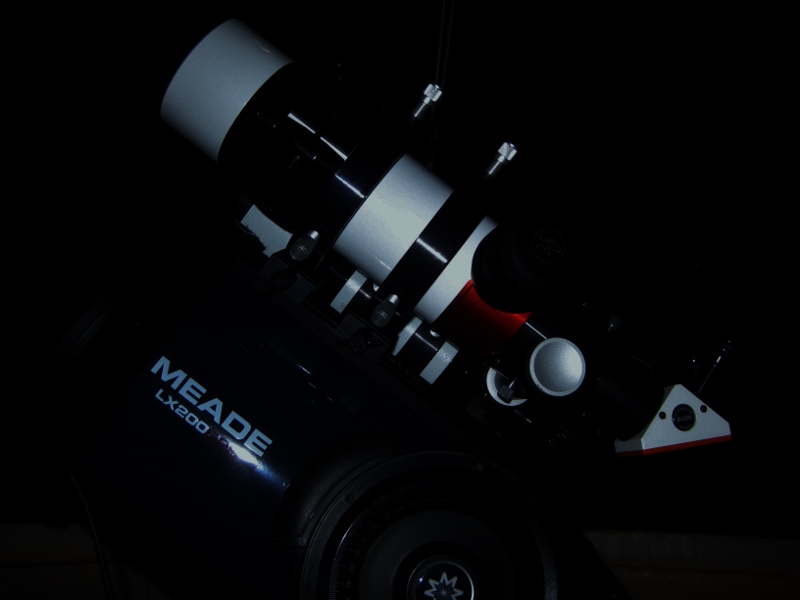 SVO Live Observatory Cam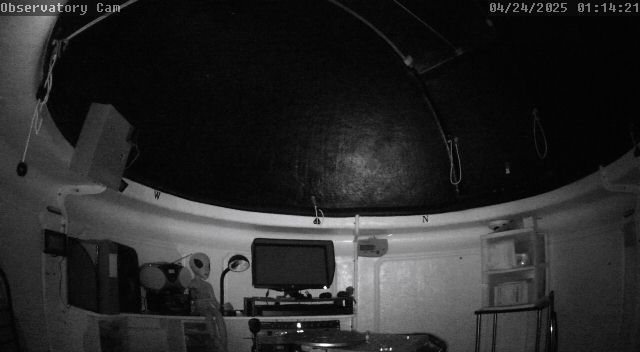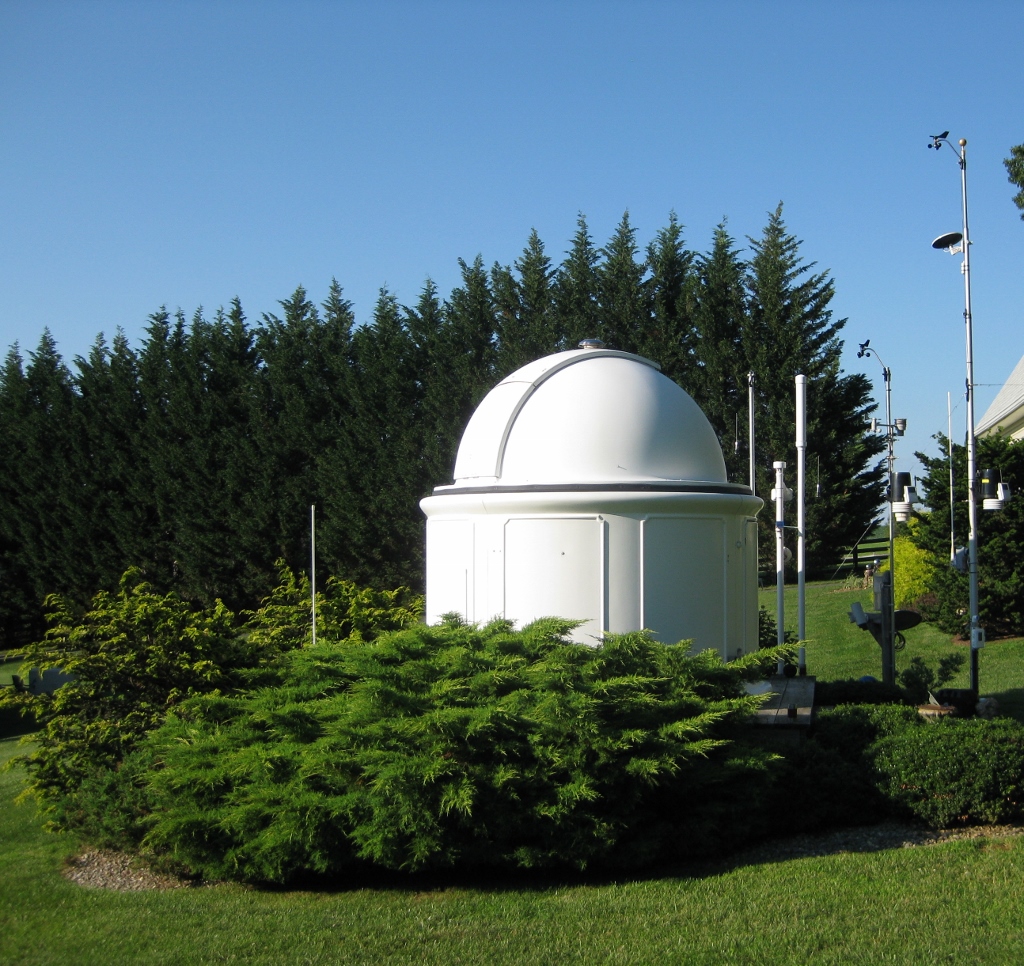 (Click Images Below to See Photo Album)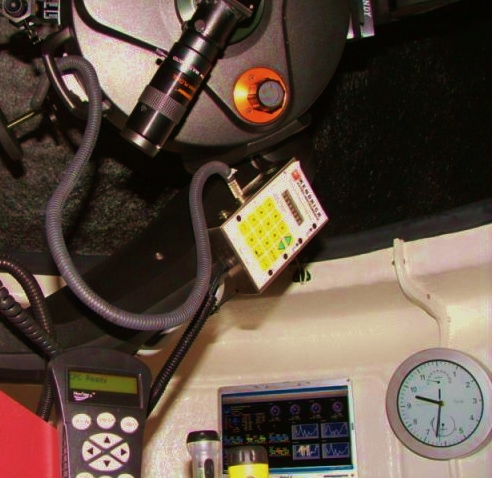 The 14 inch Schmidt-Cassegrain with Kendrick Dew controller.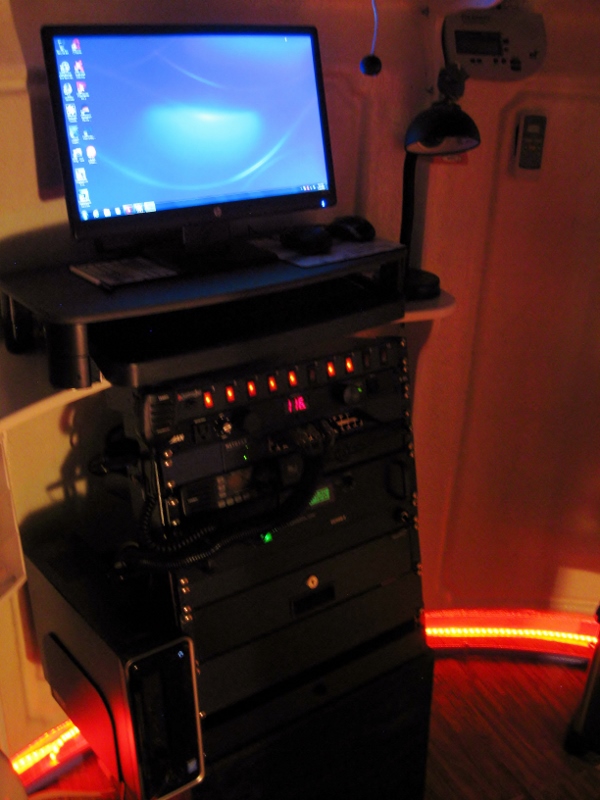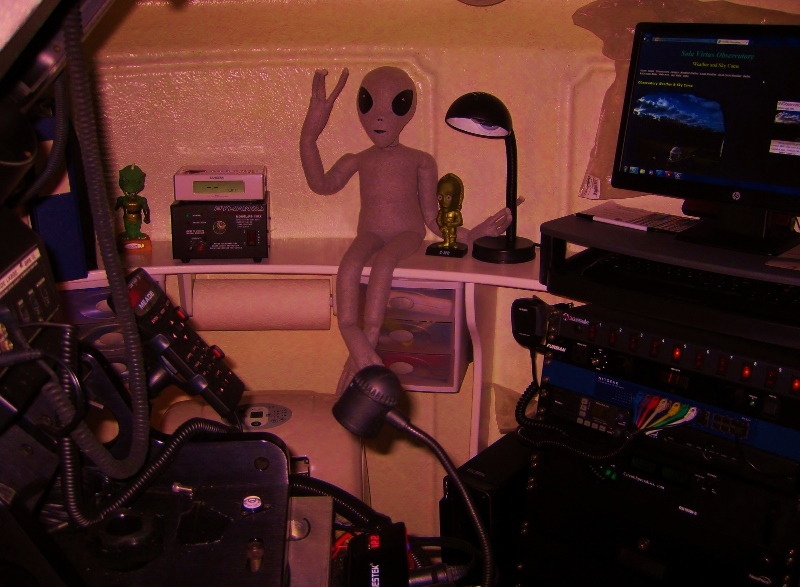 Top Image: The Observatory Systems Control Center includes: Dell 1 TB Imaging Computer with Ultra HD Monitor, 4 TB External Hard Drive, Wireless Keyboard & Mouse, Furman Pl-Pro DMC Power Conditioner with USB Charger provides soft startup & shutdown power as well as surge, noise & voltage protection, 10 Channel Controller, Signal Processor, Dew Heater Controller, Observatory Red & White Perimeter Lighting Controls, Weather Satellite Receiver, Lightning Detector Control Receiver, Slide out tray holds Dell Laptop, Weather Radio, USB Hub, 12v DC Power Inverter, 2 CyberPower 1500Va UPS Systems & Davis Wireless Envoy in bottom box compartment with new oak laminate floor below. All cables to pier and peripherals run under floor...Bottom Image: Grey Alien watches over the business end of the scope and the rack mounted equipment...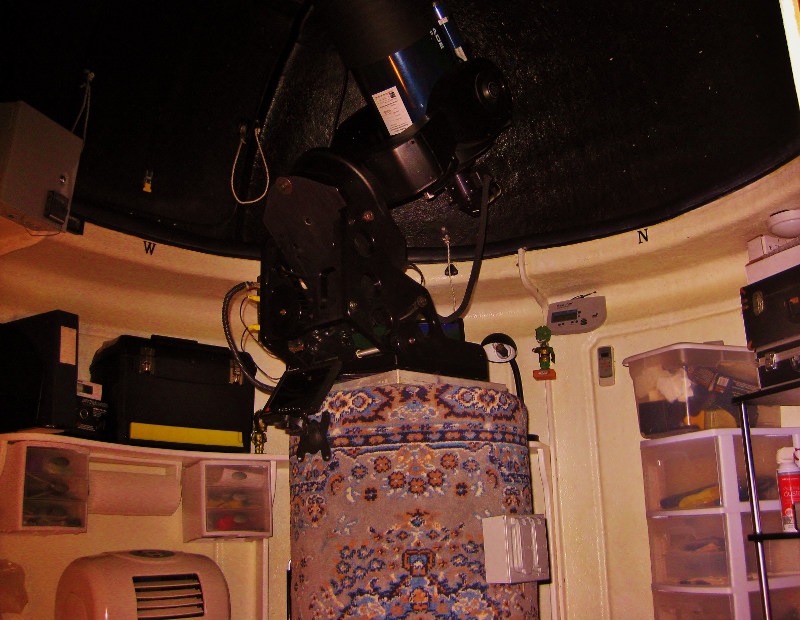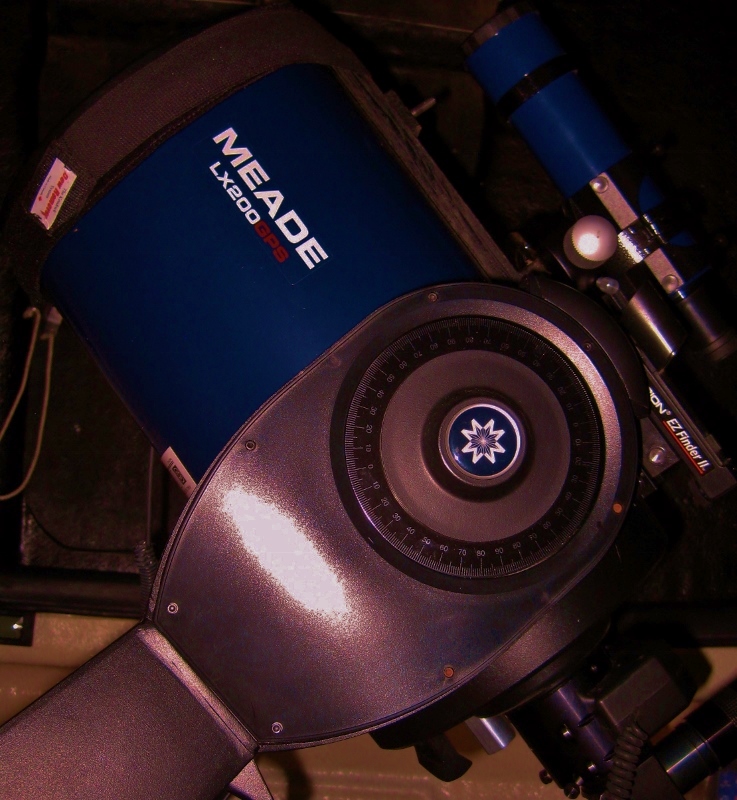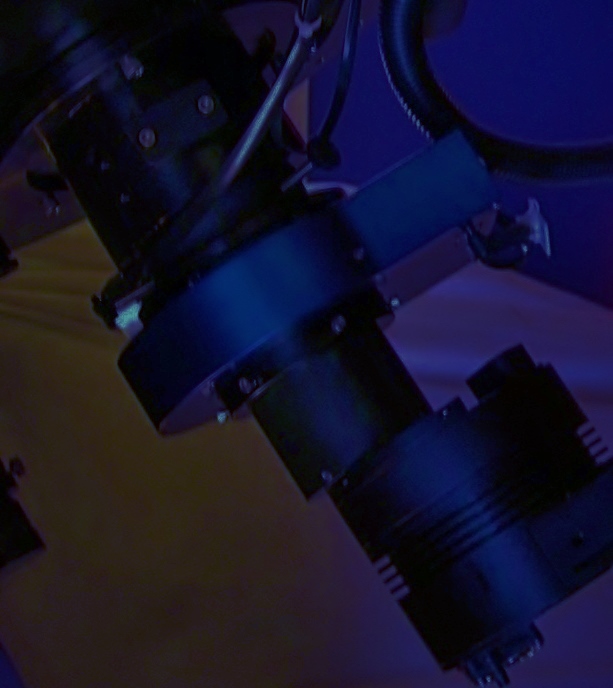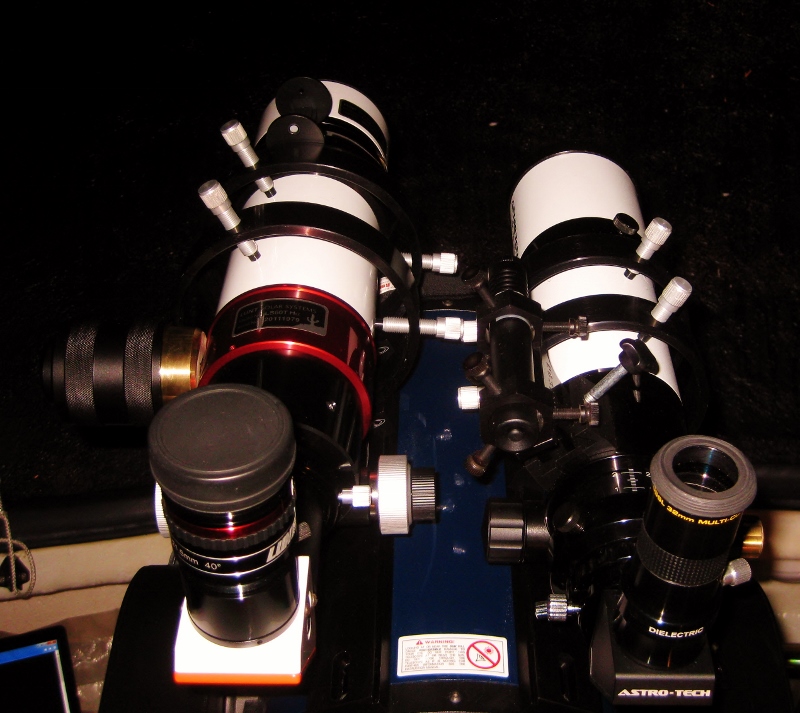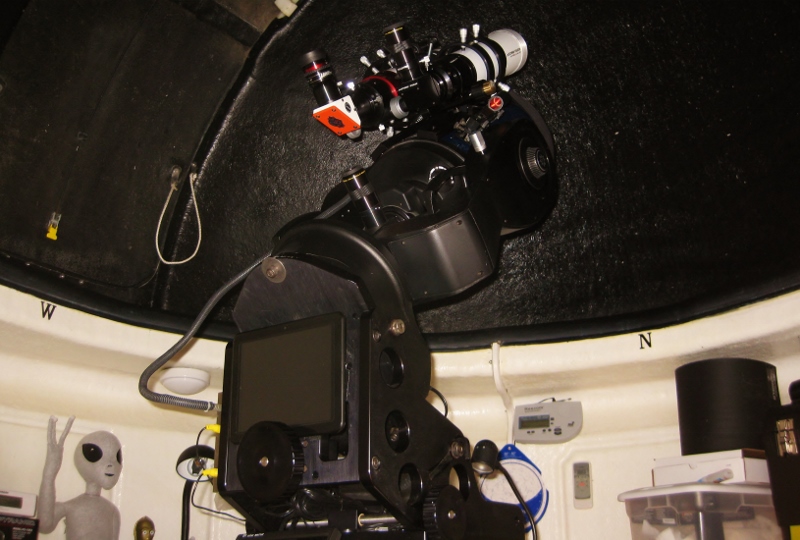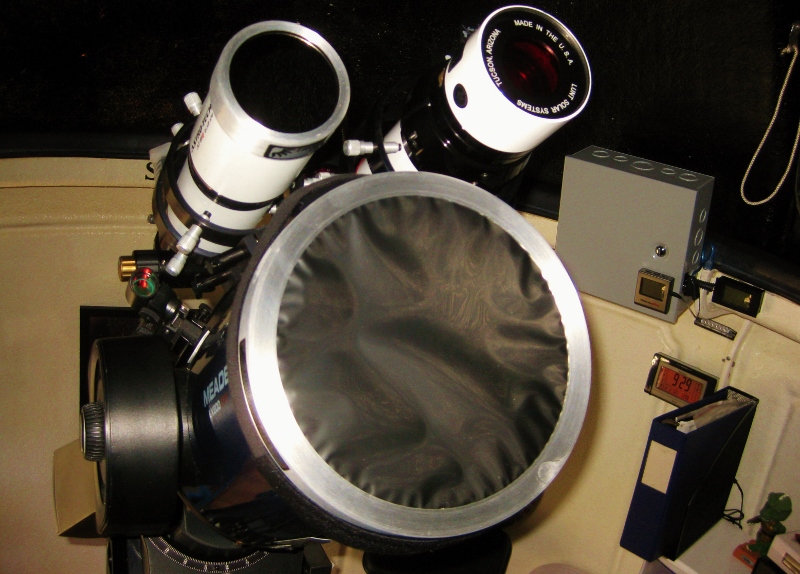 Images From Top to Bottom: Top: Meade LX200 10 inch Telescope with DSLR Imaging Rig.. Image 2: Meade LX200 with Video imaging Camera...Image 3: CCD Imaging rig attached to the Ritchey Chretien 8 inch Astrograph...Image 4-6: Solar Setup: Top view of LX200 with Lunt LS60THaDS50B1800 H-Alpha Solar Scope and the Astro-Tech 65mm ED Quad Astrograph mounted on ADM Dovetail plates & Tube Rings. Z-Bolt Laser is attached to the Astro-Tech for night time targeting...Image 5: Rear view of Solar setup: Meade LX 200 Lunt LS80 & Astro-Tech Astrograph...Image 6: LX200 with Thousand Oaks White Light Filter, Astro-Tech ED65mm Astrograph & the Lunt LS80THaDS50B1800 with CaK Module...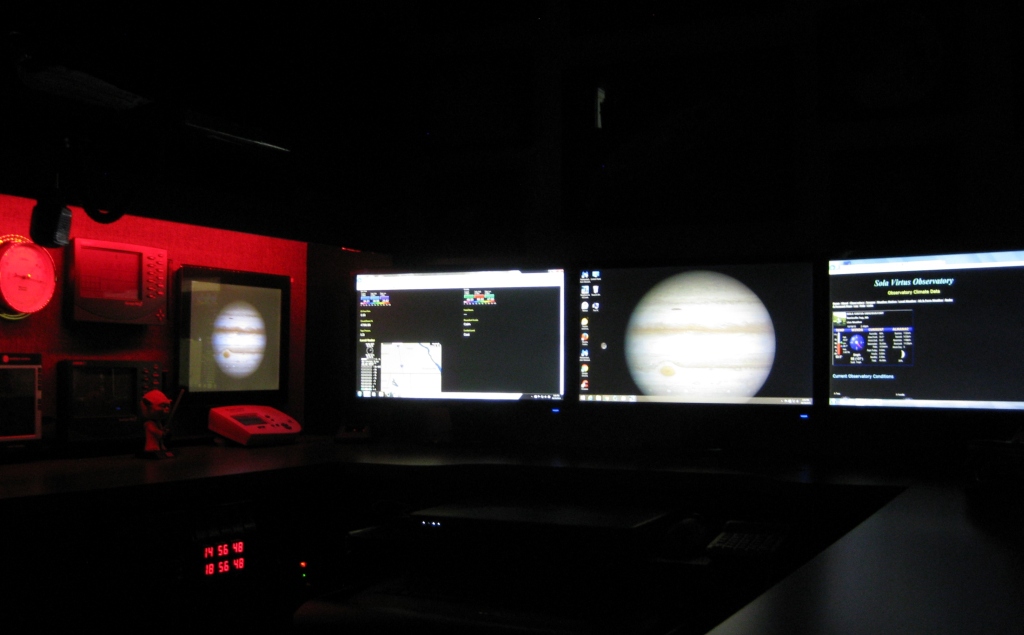 Weather Data used in Control Room for viewing and imaging.
(
Click Image to See Latest Weather Data)





Equipment
Fiberglass Observatory
Pyramid 12v Power Supplies
Mitsubishi AC/Dehumidification
Nicro Solar Vent
Honeywell Air Filtration
Dell 1TB 22" HD Screen & Transcend Hard Drive
Custom Curved Shelf with Drawers...Bins & Shelving
Furman Power Supply/ Line Conditioning
Electronics Rack Mount
Ship Lights & Computer Controlled LED Lighting System
Stardust Observing Chair
Wall Phone
All-Rite Dome Skirt Seals/ (Replaced Inferior Factory Seals)
Humane Rubber Flooring
Telescopes, Mounts and Accessories
Orion 127mm Mak
Meade LX-200
WO Megrez 80 & 90mm APO Refractor
Astro-Tech 65mm ED Quad Astrograph
Coronado PST Hydrogen-Alpha Solar Scope
Lunt LS60THaDs50B1200 Solar Scope
Dan's Pier Plates
Custom Mitty Wedge
Custom Made Pier Offset Plate
Meade LX-80
Astrozap Aluminum Dew Shield / AstroSystems Scopecoat
Kendrick Premier Digital Dew Controller
AAC Pier Plate Vibration Dampeners
ADM Dovetail Plates, Tube Rings & Counterweight System
Z-Bolt BTG-10 Plus Laser
Doc Clay's Cleaning Kit
Scope Buggy
Eypieces and Filters - Assorted Televue/Meade/Nagler EP's:7mm, 8mm, 9mm, 12mm, 20mm, 26mm, 32mm, 40mm Plossl , 20mm Cemax, 12mm Cemax, Orion 12mm Iluminated Reticle, 2" Visual Back, Thousand Oaks 60mm 2+ White Light Solar Filter, Orion 10" Full Aperture White Light Filter, Misc Filters, AstroTech: 1.25" & 2" Diagonal, 2x, 5x Triplet Barlows, ND Moon Filter, Lunt Solar Zoom
Celestron Binoviewer
Imaging Cameras
Canon350D IR Mod/Hacked
Pentax K-5 IIs with Astrotracer
Olympus E410 4/3 with IR Mod/Hacked
Atik 383L
Mallincam Hyper Plus
Mallincam Micro Super
DMK 21 Color & 41 Monochrome Camera
Celestron NexImage Lunar/Planetary Imager
ZWO ASI174MM Monochrome
MicroSeven M7B57 HD (Weather Cam)
MicroSeven M7B57 HD (Exterior OB Cam)
MoonGlow All Sky Camera
Imaging Software
IRIS
Maxim DL
SharpCap
AutoStakkert
PhotoShop
Registax
SkyHound Sky Tools
Software Bisque Sky6